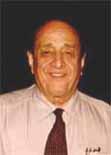 Robert A. Good, MD PhD DSc, 1922-2003
Physician in chief and director of research
At his death he was Vice-President, and founding member of the International Society for Preventive Oncology.
A founder of modern immunology and pioneer in bone marrow transplantation, his recent research involved the influence of nutrition on longevity and diseases of old age and practical aspects of bone marrow and stem cell transplantation and related forms of cellular engineering.
See also All Children's Hospital's obituary for Dr. Good.
The fourth day of the 2004 ISPO Symposium has been devoted to advances in tumor immunity and is dedicated as a memorial to Dr. Good. [Program]